New Emergency Department Medical Director Plans to Reinforce Norwalk Community Hospital's Value in the Community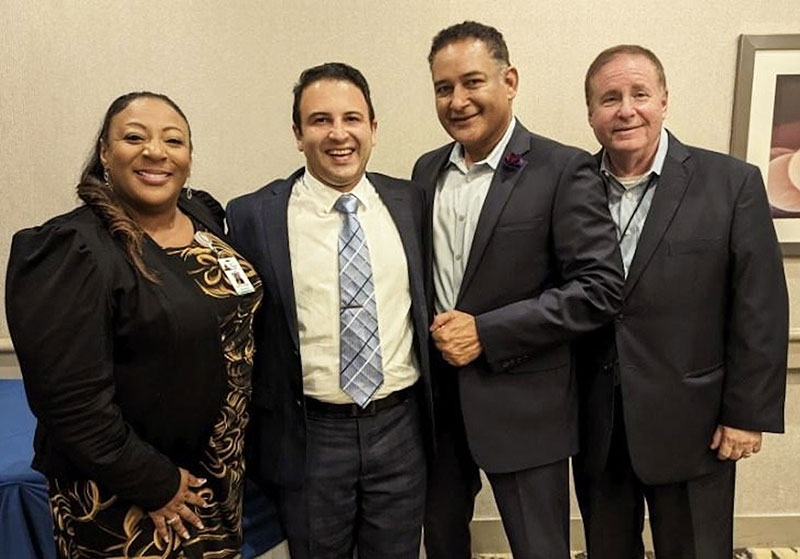 Pictured (L to R): Norwalk Community Hospital Administrator Shana Crittenden; Norwalk Emergency Department Medical Director Jim Seraj, MD; LA Community Hospitals CEO Hector Hernandez; and LA Communality Hospital Administrator Keith Levy.
Norwalk Community Hospital recently welcomed a new emergency department medical director, Dr. Jim Seraj.
"My goal is to focus on efficient and effective emergency care so that our hospital continues to be a fundamental pillar of Norwalk and Santa Fe Springs and other communities," he said. "The emergency department is the first point of contact people have with a hospital. Patients come to us sick, worried, and scared. Our duty as emergency medicine physicians is to provide high-quality compassionate care to each patient and their family. This front-line interaction is vital to our role in building the community's trust."
"We are fortunate to have Dr. Seraj join our hospital and look forward to him implementing ways to exceed our communities' expectations," said CEO Hector Hernandez, Los Angeles Community Hospitals.
Our Commitment to Quality
Norwalk Community Hospital is recognized for its expertise by Healthgrades in 2022 for Patient Safety Excellence (among the top 5 percent in nation), as well as 5-star ratings for cardiac, orthopedics, pulmonary, gastrointestinal, and critical care outcomes. Recently it was awarded 4 stars (above average) in Overall Hospital Quality Star Ratings by the Centers for Medicare and Medicaid Services (CMS) for the 2022 reporting period.