Norwalk Community Hospital Sends Santa and Elves to Bring Joy and Gifts to Seniors in July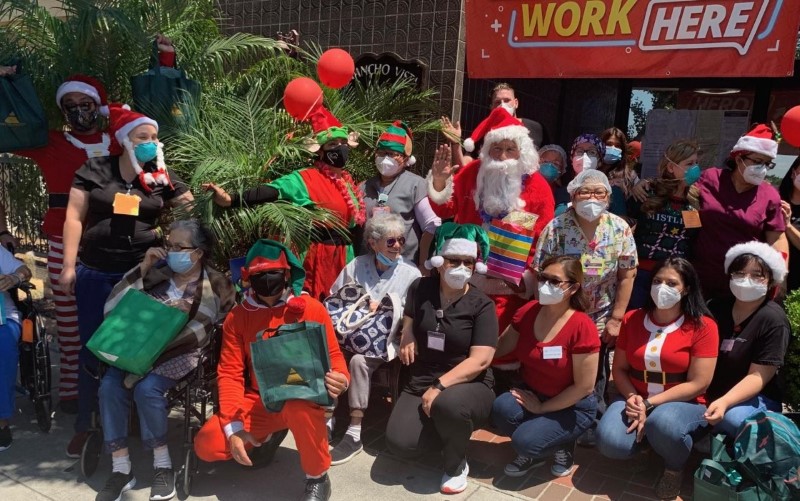 Staff from Norwalk Community Hospital were joined by Santa and his elves to distribute gifts to Norwalk and Los Angeles area nursing homes and board-and-care facilities on July 24. Christmas in July is an extension of Norwalk Community Hospital's outreach to collect and donate essential items during the pandemic to residential care facilities. Due to the pandemic, elderly and mentally challenged residents are even more isolated and alone.
"These are at-risk people who need some Christmas spirit this summer," said Norwalk Community Hospital CEO Hector Hernandez, who is also a COVID survivor. "As a hospital, we are not just here when patients are sick, but also as an active community partner."
The hospital staff has been collecting supplies since March. The supplies have been distributed each week and provide much-needed food and paper goods to more than a thousand vulnerable residents in Los Angeles and Orange County.
The hospitals' care coordinators comb stores and made connections with donors to aggregate the supplies in addition to the Christmas in July gifts.
"Donating to these facilities takes on a different meaning when you know that your contribution may be one of the only ways the facility gets eggs or milk that week," said Kathy Navejas, senior vice president of care coordination.
Typical packages included water, milk, eggs, bread, canned goods, soup, canned milk, peanut butter and jelly and dry food items, as well as sanitizer, masks, gloves, paper towels, soaps, wipes, bleach and toilet paper.
The Christmas in July is an added effort to reach out even further to be able to bring joy to those isolated and lonely during this crisis. The bags included items selected by the facilities for each resident, including socks, slippers, candy, games, blankets, sweatpants, and more.